Sunflexx® Retractable Patio Awnings and Retractable Deck Awnings
Eastern Awning Systems Sunflexx® is the ultimate state of-the-art retractable patio awning and retractable deck awning system on the market today. The Sunflexx significantly extends the usability of your deck or patio. Our retractable awnings provide a cool, comfortable shady patio or deck area when you need it and store away when you don't.
In the event of unexpected inclement weather, this awning system is engineered to withstand greater upward or downward pressure from wind or rain than any other retractable awning system. It is the only nationally sold retractable patio awning with a certified wind load chart. This is achieved with our highly specialized urethane compression shoulder joint which allows the arm to slowly flex as pressure increases from either direction.
Replacement Fabric for Patio & Retractable Awnings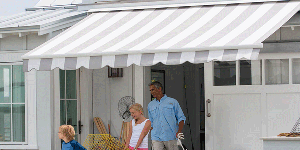 New Fabric for your Patio/Retractable Awning – Update the look of your patio or deck with new fabric for your Retractable Patio Awning. For just a fraction of the cost of a complete new awning, you can order replacement fabric for your patio awning and create a whole new look for your outdoor space.
New Valance for Patio & Retractable Awnings
Replacing your Awning Valance is an inexpensive update to your Patio Awning that will have it looking like new again. The Valance on your Patio Awning is the first thing that will look worn and dirty since it is always exposed to the outdoor elements. There's no need to replace all the fabric on your Patio Awning just because the exposed Valance is dirty and worn. See how to make your Patio Awning look like new again by just replacing the Valance.