Porch Roller Curtains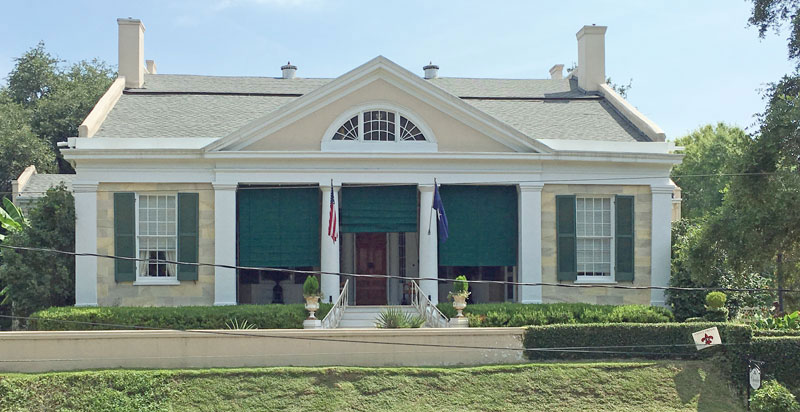 PYC Porch Roller Curtains provide privacy, shade and rain protection. With the ease of a rope and pulley system, they can be conveniently raised or lowered to any height desired. Porch Roller Curtains are made with only the highest quality outdoor fabrics and hardware.
Choose from a wide variety of colors and styles in your choice of Sunbrella®, Solar Pro or AwnTex® Mesh fabrics. Solar Pro and Sunbrella Fabrics are an solution-dyed acrylic fabric. Awntex is a mesh fabric that provides shade while allowing air to pass through the fabric. Using our optional Tie-Down System, the curtains can withstand wind gust of 70mph. For a more air-tight fit, we offer Side Fasteners.
If you are looking to maintain a clear view while protecting your porch, see our Porch Protection Curtains.
| | |
| --- | --- |
| | |
| | |
| ​Shown with valance. | |
Protect your porch from sun, rain, wind, pollen, snow and dirt using our porch roller curtains with the optional tie-down system. Our tie-down system will keep our curtains in place during strong winds and storms to ensure your porch is protected during the harshest weather.
PYC Porch Roller Curtains are packaged complete with Fiberglass Headrod and all mounting hardware for easy installation. Like all our PYC Awnings, our PYC Porch Roller Curtains are covered by a ten-year warranty. Custom Drops (Height) available up to 8′ at the same price.
Have questions? Please contact Sandy @ 800-933-6936 or email sandyp@pycawnings.com.
Finding the Perfect Size for Porch Roller Curtains: 
Download PDF Measuring Instructions

Measure desired width of curtain.
For Drop Measurement: Measure from the top where you will be mounting the Porch Roller Curtain down to at least 2″ above the floor if using tie-downs or however far off the floor you desire it to be without tie-downs. The clamps can be mounted on the wall or ceiling.
Custom drops available. For drops over 10′, please contact us for pricing.
Sunbrella Fabric – 10 Year Warranty
Porch Roller Frames – 10 Year Warranty
Tenara Thread – Lifetime Warranty
Custom Sizes up to 216″ Wide
Satisfaction Guaranteed – see Buying Information
Strong Frames Hold up to Heavy Winds
Shipped in 10 Business Days – Free UPS Ground Shipping!
Tie Down System Available-$20.00 per curtain

Marine Grade Common Sense Fasteners

– Side Fasteners for an Even More Air-Tight Curtain $80.00 per curtain (2″ overlap on post or wall needed)

Stainless Hooks and Bungee Fasteners

– Side Fasteners for an Even More Air-Tight Curtain $80.00 per curtain (overlap on post or wall  NOT needed)
Add on our

Snap on Door Panel

to complete your porch protection.
Need help measuring? Email photos to sandyp@pycawnings for your own personalized measuring instructions.
Installation – Prices – Colors – Fabric Samples
Porch Roller Curtain Installation Instructions
Watch Our Easy Installation Video
Solar Pro Fabric Selections – Standard
Awntex Fabric Selections- Premium
Sunbrella Fabric Color Selections – Premium
Contact Us for Free Fabric Samples
Order Canvas Porch Curtains Online Today or Call 800-933-6936
Snap on Door Panel

Snap on Screen Door Panel  $195.00
Porch Roller Curtains up to 42″ Wide $265.00
Porch Roller Curtains up to 6 Ft. Wide $295.00
Porch Roller Curtains up to 7 Ft. Wide  $325.00
Porch Roller Curtains up to 8 Ft. Wide $400.00
Porch Roller Curtains up to 9 Ft. Wide
$425.00
Porch Roller Curtains up to 10 Ft. Wide
$450.00
Porch Roller Curtains up to 11 Ft. Wide
$500.00
Porch Roller Curtains up to 12 Ft. Wide
$550.00
Porch Roller Curtains up to 14 Ft. Wide
$600.00
Porch Roller Curtains up to 16 Ft. Wide
$725.00
Porch Roller Curtains up to 18 Ft. Wide
$765.00