by Sandy Price Posted on May 27, 2017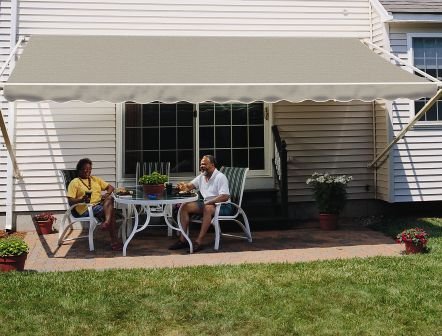 Sunsetter® Fabric
Check our our Sunsetter® Replacement Fabric Page– So easy to order with better warranties than Sunsetter®. Custom made covers to fit your Sunsetter® and great prices. We offer Sunbrella Fabric® available in over 100 colors and our lower cost option Solar Pro Fabric that is available in 5 solid colors. Both brand of fabrics come with a 10 year warranty against fade, rot and mildew. We use Tenara® Thread, mad by GORE that comes with a lifetime warranty so no worries with seams coming apart from rot.
For all other brands, check out our Patio Awning Replacement Fabric Page. Our covers will fit all brands of retractable awnings. Easy to order and warranted for 10 years. We use Sunbrella® Fabric and Tenera® Thread which has a lifetime warranty. Unsure of the size you need? Contact Us and we can help you find the right size for a perfect fit on your awning.
Take a look at our video and see how easy it is to replace your patio awning fabric.
PYC Awnings is not affiliated with Sunsetter® Brand awnings. We custom make to order new covers to fit the Sunsetter awning models.