Order Your Awnings Now and Pay Later with our Special Financing Options and Get a Head Start on the Summer Heat!
Just Select PayPal in the Shopping Cart and Sign Up with Bill Me Later.
6 months special financing on purchases of $99 or more
Offer valid on purchases made by April 30, 2014
Enjoy No Payments and No Interest if paid in full in 6 months on
Bill Me Later purchases of $99 or more.
Interest will be charged to your account from the purchase date if the purchase balance is not paid in full within 6 months.
Avoid interest charges.
We'll send you reminders to let you know when your statement is available online and when payments are due.
You can also view your account information online at any time to stay on top of purchases and make payments.
Pay the amount financed for this purchase in full by the promotion expiration date on your statement.
Take advantage of promotional financing on multiple purchases up to your available credit line. We'll help you keep track of when each promotional balance is due.
Your money. Your choice.
If you'd like to take more time to pay, interest will accumulate at an Annual Percentage Rate (APR) of 19.99% starting from the date of this purchase.
If the balance is not paid in full, the accumulated or "deferred" interest will be added to your account balance when the promotional period for this purchase expires.
Deferred interest amounts and expiration dates are available on your statement and online at any time – so you can stay informed along the way.
If approved, Comenity Capital Bank will extend credit to you for the amount financed to pay for your purchase. Comenity Capital Bank will also pay the merchant on your behalf for the purchase.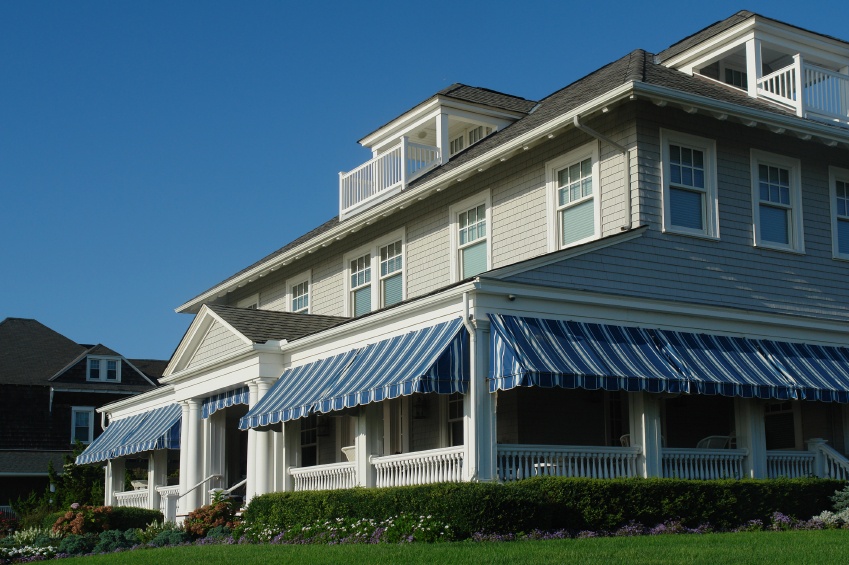 Our window awning prices will be increasing 10% due to higher supply prices. This price increase includes our window awning replacement fabric as well.
Our Traditional Window Awnings offer many great benefits. Window awnings can help keep your home cool on hot days and cut down energy costs. Window awnings are stylish on any home, and come in over 100 different fabric choices from Sunbrella. Our window awnings come with all the hardware and frames for installation, and shipping is FREE!
Our window awning frames are made with schedule 40 galvanized steel pipe, it's much heavier than any steel tubing and includes a 10 year non-prorated warranty. PYC window awnings are made with Sunbrella Fabric which has a 10 year warranty, and they are sewn with Tenara Thread that has a lifetime warranty.
If your home already has window awnings, and you would like to update the look and colors of your home we offer window awning fabric recovers. We custom make them to fit any existing frames.
Contact us

for more information on our Window Awnings!
Awnings
It will be that time of year again soon to do the yard work and get the patio furniture & awnings cleaned and ready for summer.
Here's a great instructional video for the care and cleaning your Sunbrella Fabric Awnings.
How to compare replacement window quality
There are so many options to making our homes more beautiful and functional. While certain sections of your home may have been renovated and the interior design of your home may have received quite a few face-lifts over the years, windows are often the most neglected part of your home. Now, there's a good reason to start thinking about replacing your old windows with new ones and it's not just for the aesthetics.  With advanced technology, energy-efficient windows can play a key role in bringing down your energy costs!
There are several options for replacement windows – aluminum (or metal), composite wood, fiberglass, vinyl or wood.  One of the more popular types is vinyl windows because of its low maintenance and moisture resistant features. With proper insulation vinyl windows are thermally superior to wood and metal frames.
If you're wondering how to choose the right windows for your home, here are a few tips to keep in mind:
1. Look for certifications and affiliations: This point will help us to know with confidence which ones are the most serious about giving us the best product. Look for certifications and associations with organizations such as AAMA, NFRC, Energy Star, and so on. Some manufacturers have also earned the Good Housekeeping seal for quality and reliability.
2. Look for highest quality backed by lifetime warranties: When a manufacturer offers a lifetime warranty, it means he has confidence in the product he is selling! In many cases these warranties are transferable to the new owner of your home in case you sell your place. Sash and frames should be welded for greater strength and durability. Make sure there's a quality spacer separating the glass panes. This minimizes heat loss and condensation. Safety features like ventilation latches allows windows to open a few inches. For added insulation to vinyl windows look for foam filling.
3. Energy Saving potential: Energy-efficient windows will save you on energy bills in the long run. You can expect your bills to come down by 10 to 15 percent. Energy-efficient glass like the Comfort 365 from Champion Window keeps you cool during the summer months and warm during winter. If you live in a climate where the winters are severe, you might want to add to the energy-efficiency with thicker drapes. But do remember to open them up during the day for the sun to seep in.
4. Look for licensed installers. A properly installed window will save you big time, long term. Windows that are not properly installed can allow air to flow in, creating a draft and raising your energy bills. There are manufacturers that offer lifetime warranties on materials and installation.
5. Aesthetics: There is a plethora of window designs and colors, so you'll find one that suits the architectural style of your home.
Don't neglect your windows when renovating your home! If needed call a local manufacturer for a free in-home consultation.
Author Bio- Jennifer Rossi has worked for 6 years as a real estate agent.  Her interest in interior decoration and home improvement led her to pick up practical tips on home repairs and renovations. From replacement windows and doors to siding, roofing, landscaping, re-modeling patio rooms and sun rooms, Althea shares her knowledge through articles that she hopes will provide her readers with the information they're looking for.
Get Some Tips from Bob Vila on how to Beat the Heat with Window Awnings

Check out these home improvement tips here at  Bob Vila's website on how to save money on cooling cost during the hot summer months.
Thanks Bob Vila and Hugh Howard for using a photo of our PYC Awnings for one of your tips on home improvement and saving energy cost!
See our 3 Different Styles of Window Awnings that can help you save on energy cost.
Our Indoor Cafe' Awnings are Now Available on Our Online Store!
Now until April 1st, 2013 we are offering 30% off our Indoor Awnings. Enter the code CAFE at checkout.
Check out our new Indoor Awning Page and order before April 1st, 2013 to save 30%!
Our exclusive Cafe' Indoor Awning is available as a kit with frames and sewing instructions or as a complete custom indoor window treatment with your choice of fabric. You can send your own fabric to us or choose fabric from one of our fabric suppliers listed below. The awning shown is using a rope trim on the valance of the awning. The awning valance can have any trim, a wave (scalloped edge) or straight edge.
If you have any questions, please contact us. We are here to help!
 New Data Shows that Fabric Awnings and Exterior Shades
Can Help Homeowners Reduce Cooling Cost by More than 50%


The Professional Awning Manufacturers Association (PAMA) has done a new study in 50 states and has concluded that Awnings can save up to 50% in cooling cost.
• Save money through reduced cooling bills
• Increase comfort by reducing home's internal temperature
• Potentially reduce size of and mechanical wear on the home AC unit
---
"People don't realize that there are more eco-friendly ways to stay cool." says Byron Yonce, MFC, chairman of PAMA. "While turning up the air conditioner results in higher energy bills, awnings and shades work with the air conditioner to keep your home cooler and reduce the need for additional energy." 
---
Awnings provide shade and with the rising cost of electric the savings can be substantial. Adding awnings to your home not only adds curb appeal, but they will pay for themselves and save you money on cooling cost for years to come.
The study from PAMA calculates the impact of awnings in 50 cities across the United States. The new study shows that fabric awnings or exterior shades can save homeowners as much as $200 annually by reducing the load on air conditioners (depending on where a home is located)
"The significance of this type of energy savings extends beyond reduced home expenses," said Joe Huang, president of White Box Technology, who conducted the study. "When numerous homeowners in a community reduce their energy use, there is less demand for energy during peak usage, resulting in overall savings to utility companies and the public."
The study focused on older homes that are typically smaller and less insulated than newer construction. Resulting data supports awnings and solar shades as "smart" retrofits to help make older homes more energy efficient.
"The sun's rays through glass are responsible for almost 20% of the load on your air conditioner," says Michelle Sahlin, Managing Director of PAMA. "Awnings reduce direct solar gain through windows."
"Homeowners often ask how well awnings and roller screens will help to cool their home and make them more comfortable. So PAMA initiated this study to develop credible information about the performance of window shading, as we work to educate home owners and the industry," says John Gant, PAMA' s Energy Committee Chairman. "This research uses complex computer simulations for a wide range of variables to generate predictions of the energy conservation."
The study in its entirety is now available.
Source-http://www.awninginfo.com/home_awning_save_energy.html
Embed This Image On Your Site (copy code below):

Interior Awnings Coming Soon!
There's many ways to create a fun and beautiful room with interior awnings over your windows or doorways.
Indoor Awnings can create the feeling of an Italian Cafe' or French Bistro inside your kitchen.
A bedroom for your child can become a fun exciting place. Below is a Paris inspired bedroom with indoor awnings creating an outdoor feeling of traveling through Paris.
In any room, interior awnings can help create a unique themed room for your home.
We will be offering interior awnings online soon! We will make them with your fabric, or you will be able to buy a DIY Kit with all hardware and sewing instructions.
If you would like to be notified when they are available, please email sales@pycawnings.com and we will also send a coupon for you to use on your first interior awning order! Offer Ends June 25, 2013
Window Awnings
As window awnings become increasingly more popular for both for their environmentally friendly function and their amazing style, many people are  buying window awnings for their homes and businesses. But, if you have not gone through this process before, it can be complicated to decide where to start. Some of the best looking houses on the block are those with awnings. While window awnings have been popular for many years, the growing cost of energy has made them even more popular. Obviously, in addition to helping decrease monthly energy bills,  window awnings also increase beauty and style of a house. Select a color, design, or style that increases the house and you will be impressed by the transformation.
Browse our pages and see how easy and inexpensive it is to transform the exterior of your home with window awnings.
Browse Kids Products on Houzz- For Example:
The direction your windows are facing is one of the things to consider when choosing which style of window awning will protect your home from the sun and save you the most on energy cost.

South Facing Windows –Solar heat gain can be reduced by 65% on south facing windows. It is easy to protect south-facing windows with an awning without sides for all sunlight but the lowest winter sun. In hot climates, however, it might be best to make the awning wide enough or install awnings with sides to block the midday winter sun year round.
North Facing Windows– North-facing windows can be protected with awnings without sides too, since the only time the sun impinges on them is early in the morning or late in the afternoon in summer.

East & West Facing Windows– Solar Heat gain and glare from direct sun entry can be reduced as much as 77% by adding window awnings with sides to east and west facing windows on your home. In the middle of the morning and afternoon the sun can be low enough in the skies that in can come underneath of the awning if the awning does not have sides. Awnings with sides provide the best sun protection for east and west facing windows.