6 Fantastic Reasons to Invest in Awnings for Your Home

Awnings are the perfect solution if you're looking to both protect your home and increase its curb appeal—and maybe even its value. Gone are the days when awnings were nothing more than vinyl rollout contraptions or basic wooden structures. Now it's possible to dress your home up in the materials, styles, and designs that meet your unique needs and preferences. Modernize presents six good reasons to consider investing in awnings for your home:
Use awnings to add curb appeal while providing sun protection for comfortable afternoons spent sipping tea on the porch. Patios with awnings are the perfect outdoor environment for family get-togethers and intimate dinner parties. Whether retractable, wrought iron, or spear style, you should find it easy to implement awnings that complement your home's current style and décor.
Multi-level awnings add extra space to a home and provide a grander look and feel overall. They allow for comfortable movement from one floor to another while outdoors whether it's super sunny or rainy and windy. With wrap-around awnings, you have the opportunity to create a variety of outdoor spaces to enjoy under one roof—a candle lit dining area, a cozy barbecue space, or even an outdoor bath house are all possibilities.
Enclosing a patio or porch with the help of a sturdy awning will add square footage to your home and supply you with enough space to create a new and exciting environment to enjoy. Consider turning your enclosed porch into a home office, a guest room, or a meditation space full of plants. An enclosed awning area offers all the comforts of indoors, such as protection from mosquitoes and wind, while providing an opportunity to enjoy the fresh outdoors, beautiful sunrises, and invigorating afternoons.
Combining an awning with a hanging shade system turns any porch, patio, or balcony into a two-in-one system. When the weather outside is nice and comfortable, the shades can be lifted for full exposure to the outdoors. During gloomy or rainy days, the shades can be partially or fully closed for protection from the elements without losing the ability to use your outdoor space.
Sun shining directly into your home through the windows can be harmful, as the UV rays can expose your skin, your flooring, and your furnishings to damage. Implementing awnings on your windows will keep the sun from shining directly in, which gives you full control over your light filtering options when combined with a set of sheer curtains or drapes.
Overall, awnings are an excellent idea whether you live off the land in a small cottage or maintain a swanky home in the suburbs of a large city. With so many styles, colors, sizes, and designs to choose from, you're sure to find an option that meets your personal and lifestyle needs.
 Order Your Awnings Now and Pay Later with our Special Financing Options and Get a Head Start on the Summer Heat!
Just Select PayPal in the Shopping Cart and Sign Up with Bill Me Later.
6 months special financing on purchases of $99 or more
Offer valid on purchases made by April 30, 2014
Enjoy No Payments and No Interest if paid in full in 6 months on
Bill Me Later purchases of $99 or more.
Interest will be charged to your account from the purchase date if the purchase balance is not paid in full within 6 months.
Avoid interest charges.
We'll send you reminders to let you know when your statement is available online and when payments are due.
You can also view your account information online at any time to stay on top of purchases and make payments.
Pay the amount financed for this purchase in full by the promotion expiration date on your statement.
Take advantage of promotional financing on multiple purchases up to your available credit line. We'll help you keep track of when each promotional balance is due.
Your money. Your choice.
If you'd like to take more time to pay, interest will accumulate at an Annual Percentage Rate (APR) of 19.99% starting from the date of this purchase.
If the balance is not paid in full, the accumulated or "deferred" interest will be added to your account balance when the promotional period for this purchase expires.
Deferred interest amounts and expiration dates are available on your statement and online at any time – so you can stay informed along the way.
If approved, Comenity Capital Bank will extend credit to you for the amount financed to pay for your purchase. Comenity Capital Bank will also pay the merchant on your behalf for the purchase.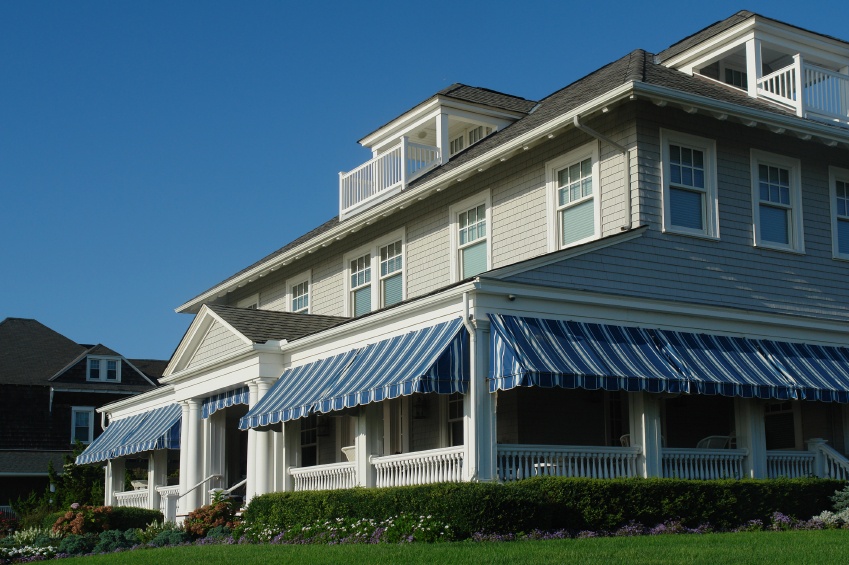 Our window awning prices will be increasing 10% due to higher supply prices. This price increase includes our window awning replacement fabric as well.
Our Traditional Window Awnings offer many great benefits. Window awnings can help keep your home cool on hot days and cut down energy costs. Window awnings are stylish on any home, and come in over 100 different fabric choices from Sunbrella. Our window awnings come with all the hardware and frames for installation, and shipping is FREE!
Our window awning frames are made with schedule 40 galvanized steel pipe, it's much heavier than any steel tubing and includes a 10 year non-prorated warranty. PYC window awnings are made with Sunbrella Fabric which has a 10 year warranty, and they are sewn with Tenara Thread that has a lifetime warranty.
If your home already has window awnings, and you would like to update the look and colors of your home we offer window awning fabric recovers. We custom make them to fit any existing frames.
Contact us

for more information on our Window Awnings!
If you need to sell your home, you know that you have some tough competition no matter where you live and size or style of your home. There are probably many new houses, townhouses, condominiums, and other types of homes within your immediate area that are all also up for sale. This means you need every advantage you can get, and even something as small as porch awnings can help in this regard.
How do porch awnings help to sell a home? Does this mean all types and styles, and when you're ready to make a purchase of one, is there anything you should keep in mind if your house will be up for sale? Often metal porch awnings need to be updated, cleaned, and even painted if someone wants to sell their home, if these are not in good shape. But for homes that do not have these coverings, it's important to think about the type you purchase and why they're so important.
Here are some quick considerations for anyone with their home on the market as to why porch awnings can help to sell that home.
Outside space sells.
When you are selling a home, the more space it has, the more likely it is to sell. Outside spaces count as well! Porches, decks, and these areas can seem like extended living spaces, if they're presented properly. Without porch awnings, those spaces can get hot and uncomfortable and be very unwelcoming. However, if they have a nice covering you can set up a table and other furniture no matter the time of year you sell your home. By covering them with porch awnings you make prospective homebuyers imagine themselves sitting out with coffee or a book or just enjoying themselves while the children play in the backyard.
Good porch awnings provide shade and comfort, and this means a person or family can sit out all hours of the day. Many are concerned with the safety of sun exposure and so may not appreciate a deck or area that is not covered by porch awnings of one sort or another. This makes them vital to the sale of your home.
What to choose.
It is important to remember that when you are selling your home, you want to keep things neutral so that you appeal to the widest range of homebuyers. This includes when you shop for porch awnings. You may like the look of wide, bold stripes, but for putting a home on the real estate market, think of more neutral shades and designs. There are many porch awnings that are neutral yet attractive, and so these may be a better choice for you.
It may also be worth it to consider automated porch awnings as these are preferred by homebuyers; they're easier to use and can be opened at a moment's notice for those sudden downpours! Keep these thoughts in mind if you have a home on the market and want to showcase your outside space.
There are many ways that we can improve the look of the interior of our properties, but a great way to make the outside look better is with home awnings. There are many ways to achieve this as you can adorn the front door, garage doors or even the back yard with some lovely home awnings. Not only do you get a great look, but home awnings are incredibly useful and cost effective too.
Good awnings attached over the front door will make your home seem very welcoming to your visitors. They also make a statement about you as well as you can choose many different styles and colors. Some may prefer to go for an understated lighter shade of fabric to give a cooler feel, whereas bright, vibrant colors will be warm and inviting. Home awnings will also protect your windows, front door, patio doors or garage doors from the severity of the weather, be it heavy winds and rain or strong sunshine.
It maybe though that you want home awnings installed to protect you and your family from the weather. Patio or deck awnings are a fantastic asset to have and make it seem like you have an additional room at the back of the house. This affect is created without the great expense and aggravation of building an extension or conservatory onto your property.
Home awnings provide you with a sense of a great well being as you can spend more time outside. Doesn't it just feel great to be able to sit on the patio whilst enjoying breakfast, lunch or dinner or even just a quiet drink after a hard day at work? You can do this knowing that your home awnings will protect you from the risk of showers or shade you from the intense heat of a summer's day.
When looking at home awnings you can choose widths and projections of many sizes as well as many different colored fabrics. It is also possible to have a motorized model that you can operate with just the click of a switch. These have the added feature of reverting to being hand operated in case of power failure. Alternatively the standard hand operated home awnings are equally easy to use with a crank lever.
PYC Awnings offer a wide range of products of excellent value and quality. These include door, window and patio/deck awnings as well as roller curtains and patio umbrellas. The frames are made from steel pipe that is much heavier than any steel tubing making them more durable in strong winds. A money back guarantee is provided on all custom made products.
So
When it comes to giving your home, store or restaurant a fantastic welcoming look, you cannot beat quality fabric awnings. Fabric awnings come in a wide range of colors, styles and sizes and not only look good but also provide fantastic practical use as well. So what makes fabric awnings more appealing than say the long lasting metals ones?
From a practical standpoint there is no doubt that an aluminum awning will serve you well, but let's be honest they are not quite so pleasing on the eye. A good quality fabric will after all still last a good ten years, if not more and gives your home or business a great look. Not only that they can very easily be replaced.
The concept of using awnings has been around for a very long time when people used wooden mats to protect their market stalls and homes from the sun. Linen fabrics were then later used to decorate theaters with the help of poles and beams. The concept has evolved over the years so that now we have the choice of different fabric awnings and a far wider range of colors.
A good quality awning will help protect your property, patio or deck from the elements. More importantly with fabric awnings you can enjoy the outdoor life whatever the weather. It is so nice to come home from a long day at work and enjoy a cold glass of beer on the patio, knowing that even it does start raining you can stay outside.
That said it is important that your fabric awnings are purchased and installed with a good quality material that is waterproof, and where the color will not run or fade in the sun. Another advantage of using fabric over other materials such as aluminum, fiberglass or polyesters is that it is much cheaper. They are also much easier and quicker to install than other materials.
Another helpful thing that fabric awnings offer is that the material can easily be removed if it is necessary. For example if you are anticipating extremely strong winds or even hurricanes, it is easy to detach the material to avoid damage. Of course this is also helpful if you are looking to change the style of your fabric awnings.
Changing the style of your fabric is much easier and cheaper than replacing the whole awning. So if you move into a new home and find the existing fabric distasteful or just fancy a change of color it is easy to do. PYC Awnings can help in this regard with a great selection of replacement fabrics for awnings. The fabric awnings have a 10-year guarantee and any cover can be custom made.
So if you are looking to improve the look of your front door or windows or perhaps need a suitable cover for the patio, then fabric awnings are the answer. They provide a much cheaper and easier way to protect your property from the elements.
Canvas awnings come in so many colors, prints and patterns.
A good high quality awning will come with a good warranty. If the company makes a good product, they will not be afraid to offer a 10 year warranty on their canvas products. Awnings are available to fit any kind of door as well as windows. Single doors, French doors and sliding doors can all benefit from awnings.
Canvas awnings also reduce the ultra violet rays that enter the home or building. Ultra violet rays are the number one cause of skin cancer. Reducing the amount of UV ray exposure in your home or business is an important health concern. Enjoy having your windows open to light without running up the power bill or exposing yourself to the sun's dangerous rays.
Canvas awnings can also be used to create an extra outdoor room. Sun rooms and metal covered patios or decks are much more expensive than an awning. If you enjoy the outdoors but do not want to sit in the direct sun, awnings are a great way to put more shade in your back yard. It is great for grilling, watching the kids or grandchildren play in the yard and many other activities.
Canvas awnings are also a great way to continue to sit outdoors during a brief summer shower. Instead of hopping up and dragging everything inside when it rains, stay outside and enjoy the fresh air with a nice summer rain fall. An awning is a great way to make this possible. It can also let you continue with your grilling or other activities without being interrupted by a brief shower.
Canvas awnings are durable and last a long time. When they do wear out, years down the road, you can have the canvas replaced without having to take down the entire awning. In many cases the canvas can be sealed or repaired to make it last even longer. They are a good investment in the looks, practicality and functionality of the home.
Canvas awnings can be used to decorate in addition to saving energy and blocking the harmful UV rays of the sun. Awnings can add a look of nostalgia to the architecture of the home. Many styles of home look rather straight and boxy. The addition of awnings brings all new visual features to the design of the home. It makes the house look like a home.
Canvas awnings are a fraction of the cost of other covers for patios, decks and other outdoor areas. They also make an affordable, convenient eating area in the outdoors. They will cut your cooling bills and help you to stay healthy. They also add value in the appearance and functions of your home.
An awning over a doorway or entry way is great to have any time of year. In the winter, it can prevent the buildup of snow and ice that can be annoying, slippery and dangerous. In the spring and summer, it will give you a nice place to stand in the dry out of the rain while you unlock and open the door. It will also help to keep your welcome mat dry, making it easier to wipe off your feet before you enter.
An awning over the door can keep out the wet and dirt that damage the floors. Carpets and hardwoods are both frequently damaged and worn out early when wet is blown in or tracked in through the doors. awnings are a good way to help protect the investment you have made in the floors of your home.
An awning will also block harmful ultra violet rays from the light of the sun from entering the home. This can make your home healthier, helping to prevent skin cancer. Exposure to the sun is responsible for the vast majority of skin cancer cases. Some forms of skin cancer can be life threatening. The light of the sun can also fade carpets and furniture. awnings over windows and doors helps protect your health as well as your valuable furnishings.
An awning can also be used to create an outdoor area of shade. If you want a covered patio or deck for grilling, watching the kids play in the back yard or just reading the evening newspaper, awnings are an inexpensive alternative to other covers or room additions. It will also keep you dry if a sudden shower of rain comes along. No need to pick up all of your things and run in the house if you have a cover over your outdoor sitting area.
An awning made of canvas comes in a wide selection of colors and patterns. They give a nostalgic look to almost any home or business. They have been popular for over a hundred years. If the exterior of your home is rather bland and nondescript, awnings can be the right addition to give the exterior of your home a little character.
An awning will save money on your power bill for a long time. Canvas is a very durable material. They can be put up quickly and easily by most do it yourself home owners. You can get warranties on them that will insure that they last for at least ten years. When the awnings are worn out, you can get the canvas replaced without removing the awning.
Get Some Tips from Bob Vila on how to Beat the Heat with Window Awnings

Check out these home improvement tips here at  Bob Vila's website on how to save money on cooling cost during the hot summer months.
Thanks Bob Vila and Hugh Howard for using a photo of our PYC Awnings for one of your tips on home improvement and saving energy cost!
See our 3 Different Styles of Window Awnings that can help you save on energy cost.
Brighten up the entrance of your home by making a few small changes.
Paint the Front Door
Add a Porch Valance
Add some Toss Pillows
For this homeowner, a few small changes made her pleasing entryway into a Grand Entryway.