Top Ways to Save on Energy Bills This Summer
Courtni Wisenbaker-Scheel
The Department of Energy has found that heating and cooling a home accounts for almost half of a residential energy bill. In recent years, all of us have felt the squeeze these hotter summer days have put on our wallets, but what can we do about it? At Home Improvement Leads, we know that there's plenty you can do to help lighten your energy load, regardless of your budget.
Fans and Ceiling Fans
One of the simplest ways to start saving energy in the summer is by setting up oscillating fans or using ceiling fans to help get your cooled air moving. By doing so, your room will feel up to 4 degrees cooler than your home's actual temperature. Be sure that your ceiling fan is switched to the summer setting and is turning in a counterclockwise direction when you look up at it so that you get the greatest benefit, and make sure to turn everything off whenever you leave the room.
Service Your HVAC
Americans spend $11 billion a year on cooling their homes, but that amount could be greatly reduced if everyone serviced their HVAC unit regularly. Though you will want to have a certified professional inspect it annually, you can keep up with seasonal checkups yourself and keep your system running efficiently for years to come. In fact, simply replacing clogged, dirty air filters with new ones will save you 5 to 15 percent on your HVAC's energy consumption!
Install Window and Door Awnings
Unless your windows and doors have been upgraded to Energy Star approved replacements, they allow solar heat to infiltrate your home, which hikes up your home's internal temperatures You can reduce your home's solar heat gain by upwards of 77 percent by installing awnings over your home's windows. Though awnings used to be made with canvas that would wear out in five years, technology has improved greatly. PYC Awnings back their fabrics with a 10 year warranty, saving you hundreds of dollars on your energy bill over the course of their lifespan.
Seal Cracks and Openings
Regardless of your home's age, it's likely there are cracks or openings somewhere in your home, allowing for cool air to escape and hot, humid air to seep in. Closing up these gaps can be as simple as adding weather stripping to gaps in your window frames or caulking small fractures in your home's exterior walls. Don't forget to thoroughly check your attic for signs of water damage and to inspect the state of your insulation. The more protected your home is from the elements, the lower your energy bill will be.
Though these tips are great for any home, consider hiring a professional to perform a home energy audit if you are looking for a thorough analysis of your home.
6 Fantastic Reasons to Invest in Awnings for Your Home

Awnings are the perfect solution if you're looking to both protect your home and increase its curb appeal—and maybe even its value. Gone are the days when awnings were nothing more than vinyl rollout contraptions or basic wooden structures. Now it's possible to dress your home up in the materials, styles, and designs that meet your unique needs and preferences. Modernize presents six good reasons to consider investing in awnings for your home:
Use awnings to add curb appeal while providing sun protection for comfortable afternoons spent sipping tea on the porch. Patios with awnings are the perfect outdoor environment for family get-togethers and intimate dinner parties. Whether retractable, wrought iron, or spear style, you should find it easy to implement awnings that complement your home's current style and décor.
Multi-level awnings add extra space to a home and provide a grander look and feel overall. They allow for comfortable movement from one floor to another while outdoors whether it's super sunny or rainy and windy. With wrap-around awnings, you have the opportunity to create a variety of outdoor spaces to enjoy under one roof—a candle lit dining area, a cozy barbecue space, or even an outdoor bath house are all possibilities.
Enclosing a patio or porch with the help of a sturdy awning will add square footage to your home and supply you with enough space to create a new and exciting environment to enjoy. Consider turning your enclosed porch into a home office, a guest room, or a meditation space full of plants. An enclosed awning area offers all the comforts of indoors, such as protection from mosquitoes and wind, while providing an opportunity to enjoy the fresh outdoors, beautiful sunrises, and invigorating afternoons.
Combining an awning with a hanging shade system turns any porch, patio, or balcony into a two-in-one system. When the weather outside is nice and comfortable, the shades can be lifted for full exposure to the outdoors. During gloomy or rainy days, the shades can be partially or fully closed for protection from the elements without losing the ability to use your outdoor space.
Sun shining directly into your home through the windows can be harmful, as the UV rays can expose your skin, your flooring, and your furnishings to damage. Implementing awnings on your windows will keep the sun from shining directly in, which gives you full control over your light filtering options when combined with a set of sheer curtains or drapes.
Overall, awnings are an excellent idea whether you live off the land in a small cottage or maintain a swanky home in the suburbs of a large city. With so many styles, colors, sizes, and designs to choose from, you're sure to find an option that meets your personal and lifestyle needs.
Awning Graphics
Make an undeniable mark.
The Sunbrella Graphics System (SGS) puts our long-lasting fabrics to work for your business.
Sunbrella Graphics can be applied to any of our awning products and Patio Umbrellas. Just send us your graphics file for a quote, and we will create attractive awnings that provide protection from the elements while delivering messages to patrons.
Sunbrella and 3M's high-performance films lets you easily add custom designs, identity stripes and logos to your Awnings and Umbrellas. It's a cost-effective process that allows you to create repeatable, multicolor graphics, striping and complex logo displays.
 Order Your Awnings Now and Pay Later with our Special Financing Options and Get a Head Start on the Summer Heat!
Just Select PayPal in the Shopping Cart and Sign Up with Bill Me Later.
6 months special financing on purchases of $99 or more
Offer valid on purchases made by April 30, 2014
Enjoy No Payments and No Interest if paid in full in 6 months on
Bill Me Later purchases of $99 or more.
Interest will be charged to your account from the purchase date if the purchase balance is not paid in full within 6 months.
Avoid interest charges.
We'll send you reminders to let you know when your statement is available online and when payments are due.
You can also view your account information online at any time to stay on top of purchases and make payments.
Pay the amount financed for this purchase in full by the promotion expiration date on your statement.
Take advantage of promotional financing on multiple purchases up to your available credit line. We'll help you keep track of when each promotional balance is due.
Your money. Your choice.
If you'd like to take more time to pay, interest will accumulate at an Annual Percentage Rate (APR) of 19.99% starting from the date of this purchase.
If the balance is not paid in full, the accumulated or "deferred" interest will be added to your account balance when the promotional period for this purchase expires.
Deferred interest amounts and expiration dates are available on your statement and online at any time – so you can stay informed along the way.
If approved, Comenity Capital Bank will extend credit to you for the amount financed to pay for your purchase. Comenity Capital Bank will also pay the merchant on your behalf for the purchase.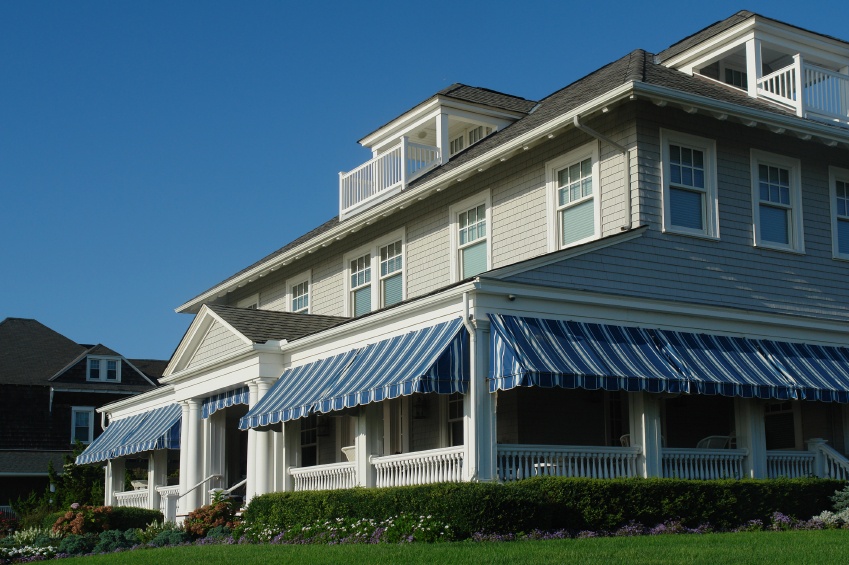 Our window awning prices will be increasing 10% due to higher supply prices. This price increase includes our window awning replacement fabric as well.
Our Traditional Window Awnings offer many great benefits. Window awnings can help keep your home cool on hot days and cut down energy costs. Window awnings are stylish on any home, and come in over 100 different fabric choices from Sunbrella. Our window awnings come with all the hardware and frames for installation, and shipping is FREE!
Our window awning frames are made with schedule 40 galvanized steel pipe, it's much heavier than any steel tubing and includes a 10 year non-prorated warranty. PYC window awnings are made with Sunbrella Fabric which has a 10 year warranty, and they are sewn with Tenara Thread that has a lifetime warranty.
If your home already has window awnings, and you would like to update the look and colors of your home we offer window awning fabric recovers. We custom make them to fit any existing frames.
Contact us

for more information on our Window Awnings!
If you need to sell your home, you know that you have some tough competition no matter where you live and size or style of your home. There are probably many new houses, townhouses, condominiums, and other types of homes within your immediate area that are all also up for sale. This means you need every advantage you can get, and even something as small as porch awnings can help in this regard.
How do porch awnings help to sell a home? Does this mean all types and styles, and when you're ready to make a purchase of one, is there anything you should keep in mind if your house will be up for sale? Often metal porch awnings need to be updated, cleaned, and even painted if someone wants to sell their home, if these are not in good shape. But for homes that do not have these coverings, it's important to think about the type you purchase and why they're so important.
Here are some quick considerations for anyone with their home on the market as to why porch awnings can help to sell that home.
Outside space sells.
When you are selling a home, the more space it has, the more likely it is to sell. Outside spaces count as well! Porches, decks, and these areas can seem like extended living spaces, if they're presented properly. Without porch awnings, those spaces can get hot and uncomfortable and be very unwelcoming. However, if they have a nice covering you can set up a table and other furniture no matter the time of year you sell your home. By covering them with porch awnings you make prospective homebuyers imagine themselves sitting out with coffee or a book or just enjoying themselves while the children play in the backyard.
Good porch awnings provide shade and comfort, and this means a person or family can sit out all hours of the day. Many are concerned with the safety of sun exposure and so may not appreciate a deck or area that is not covered by porch awnings of one sort or another. This makes them vital to the sale of your home.
What to choose.
It is important to remember that when you are selling your home, you want to keep things neutral so that you appeal to the widest range of homebuyers. This includes when you shop for porch awnings. You may like the look of wide, bold stripes, but for putting a home on the real estate market, think of more neutral shades and designs. There are many porch awnings that are neutral yet attractive, and so these may be a better choice for you.
It may also be worth it to consider automated porch awnings as these are preferred by homebuyers; they're easier to use and can be opened at a moment's notice for those sudden downpours! Keep these thoughts in mind if you have a home on the market and want to showcase your outside space.
Patio awnings are a fantastic practical but decorative feature to add to your house or commercial property. PYC Awnings can adorn your house with custom made awnings to fit any size of wall or patio. Their patio awnings not only look good but they provide great cover from the
elements, be it during a strong shower or the heat of the midday sun.
It is so nice to be able to enjoy a nice lunch out on the patio or entertain friends and family, but Mother Nature isn't always so accommodating. Even with the threat of showers though, breakfast, lunch and dinner can still be enjoyed under the shelter of patio awnings. They also provide excellent relief from the sun on a particularly hot day if required.
For example you might have invited friends around for a barbeque but on the day itself the weather is showery. You can still have the barbeque under the shelter of the patio awning without having to worry about rushing food back into the house to stop it getting wet.
The same is true of corporate events where patio awnings can ensure clients will enjoy your hospitality with no fear of the rain or the heat of the sun spoiling the occasion. In fact patio awnings are a great addition to the outside of a restaurant or hotel, where guests can dine outside and enjoy the views come rain or shine.
Retractable patio awnings provide a very cost effective way of shading a deck or patio in the back yard. Some customers are keen to install awnings as just an ornate feature for the house. However, retractable patio awnings can essentially provide a more affordable way to expand your outdoor living space.
In effect a patio awning can offer you an additional room to your house or commercial property. Not only that, but this option is considerably cheaper than adding a conservatory or another permanent construction to the building. It is quick and easy to install and will not involve the inconvenience of several days or weeks of building work.
Good patio awnings also accentuate the features of the building and can help beautify the outside of the property. Various different colors can be chosen to help achieve this improvement to the look of the house, restaurant or store. In fact the colors of patio awnings also serve different purposes. For example bright colored awnings will bring an additional feeling of warmth, whilst blue striped canvases might be better for a shaded environment.
As well as being aesthetically pleasing, patio awnings are very easy to use with the option of having a motorized system or a more conventional hand crank. Either way, you can respond quickly to the changing weather by rolling out your awning or retracting it to enjoy the benefits of the sun. Choosing retractable patio awnings as opposed to permanent fixed ones will stop the canvass being damaged during inclement weather. It's a simple way to enjoy the outdoor life for as much of the year as possible.
When it comes to giving your home, store or restaurant a fantastic welcoming look, you cannot beat quality fabric awnings. Fabric awnings come in a wide range of colors, styles and sizes and not only look good but also provide fantastic practical use as well. So what makes fabric awnings more appealing than say the long lasting metals ones?
From a practical standpoint there is no doubt that an aluminum awning will serve you well, but let's be honest they are not quite so pleasing on the eye. A good quality fabric will after all still last a good ten years, if not more and gives your home or business a great look. Not only that they can very easily be replaced.
The concept of using awnings has been around for a very long time when people used wooden mats to protect their market stalls and homes from the sun. Linen fabrics were then later used to decorate theaters with the help of poles and beams. The concept has evolved over the years so that now we have the choice of different fabric awnings and a far wider range of colors.
A good quality awning will help protect your property, patio or deck from the elements. More importantly with fabric awnings you can enjoy the outdoor life whatever the weather. It is so nice to come home from a long day at work and enjoy a cold glass of beer on the patio, knowing that even it does start raining you can stay outside.
That said it is important that your fabric awnings are purchased and installed with a good quality material that is waterproof, and where the color will not run or fade in the sun. Another advantage of using fabric over other materials such as aluminum, fiberglass or polyesters is that it is much cheaper. They are also much easier and quicker to install than other materials.
Another helpful thing that fabric awnings offer is that the material can easily be removed if it is necessary. For example if you are anticipating extremely strong winds or even hurricanes, it is easy to detach the material to avoid damage. Of course this is also helpful if you are looking to change the style of your fabric awnings.
Changing the style of your fabric is much easier and cheaper than replacing the whole awning. So if you move into a new home and find the existing fabric distasteful or just fancy a change of color it is easy to do. PYC Awnings can help in this regard with a great selection of replacement fabrics for awnings. The fabric awnings have a 10-year guarantee and any cover can be custom made.
So if you are looking to improve the look of your front door or windows or perhaps need a suitable cover for the patio, then fabric awnings are the answer. They provide a much cheaper and easier way to protect your property from the elements.
Door awnings are a fantastic way to make your house seem incredibly welcoming for your guests. However, door awnings are not just decorative features as they serve a very practical purpose too. After all, the front of your home or business can be very exposed to the weather and therefore door awnings provide great protection from the sun and the rain.
The most popular types of awnings are generally canvas or metal. However, there is no doubt that canvas door awnings are far more aesthetically pleasing than the metal equivalents and as such more popular with home owners. You can also find a great range of colors with canvas awnings that will suit the style of the property or the taste of the home owner.
Shop owners are also keen to have door awnings
as a welcoming feature for customers. It shows a caring attitude to browsing customers and will make them feel more inclined to browse inside. Of course for home owners a nice garden at the front of the house offers the same effect, but door awnings give that extra welcoming touch.
The aesthetics are important but there are very practical uses here too. Door awnings are proven to absorb heat from the sun, meaning that property owners do not have to rely so much on air conditioning to keep the house cool. As an addendum, awnings provide great protection from the wind, rain and other unwanted particles the environment chooses to throw at us.
Fitting awnings to the doors of your home or business is a really good idea. In tough climates doors can be prone to damage making them unsightly and can cause some harm. Awnings will save the cost of repairing or replacing your doors on a regular basis as well as the cost of air conditioning. It is also a much more cost effective way of protecting the front door than building a porch for example.
Door awnings do not just have to be applied to the front of the house as they can be fitted to patio doors, garage doors or even doors on mobile homes. These are a relatively cheap way to protect your doors and provide a good look to the home. In fact, door awnings will add value to your home so long as they are well looked after and of good quality.
PYC Awnings offer fantastic made to last door awnings that customers can purchase in a wide array of colors. These awnings are constructed with ¾" OD galvanized frames that are designed to withstand gusts of up to 50 miles per hour. Aside from the excellent quality of the awnings, they are very simple and quick to install and are available in widths of up to 240″ and a projection of 40″.
Take a browse around the PYC Awnings website to see all the colors and sizes of door awnings that are available. You will find that fitting a door awning is a great addition to the home.
When you have an important gathering in the backyard then make sure you are protected from the weather with qualit
y deck awnings. We cannot control the weather, but at least you do not have to cancel or disrupt your party or family lunch just because of the rain. With deck awnings you and your guests will be protected not only from the inconvenience of rain showers but also the heat of the midday sun.
Most of us like to make the most of the fresh air and it is so nice especially in the summer months to have breakfast out on the deck whilst reading the newspaper. It is a great way to unwind at the weekend and forget about the stresses and strains of working life.
The main consideration for your deck awning is of course staying dry or keeping cool on very hot sunny days. Deck awnings come in many different sizes and customers can purchase either manual or motorized models. Of course a motorized model is very easy to use and takes little effort to operate. However, the manual models are also easy to operate using a crank handle to extend or retract the awning cover.
Some customers may worry about motorized models and what will happen if there is a power outage. In this instance there is no need to worry as most motorized deck awnings have a manual override feature. The other great benefit of deck awnings is that you don't have to extend them fully, so you can partially cover the space. You can also choose many different styles and colors to make your deck and indeed house that much more decorative.
From a practical point of view, arguably the most popular type of deck awnings is made from aluminum. One of the reasons for this is that aluminum awnings are the best at reflecting light away from the surface of the deck. If your deck has a particularly hot and sunny aspect then this will ensure you and your family would have a consistently cool area to sit in during the summer.
Customers looking for a more aesthetically pleasing and yet still practical type of deck awning will often opt for canvas. With canvas deck awnings you usually have a wider choice of colors and styles than the aluminum ones. However, it has to be said that aluminum will last much longer than canvas.
If you are looking to add a great feature to the home in order to protect your deck and enjoy the outdoors in virtually all weathers, then investing in an awning is cost effective and practical way to do it.