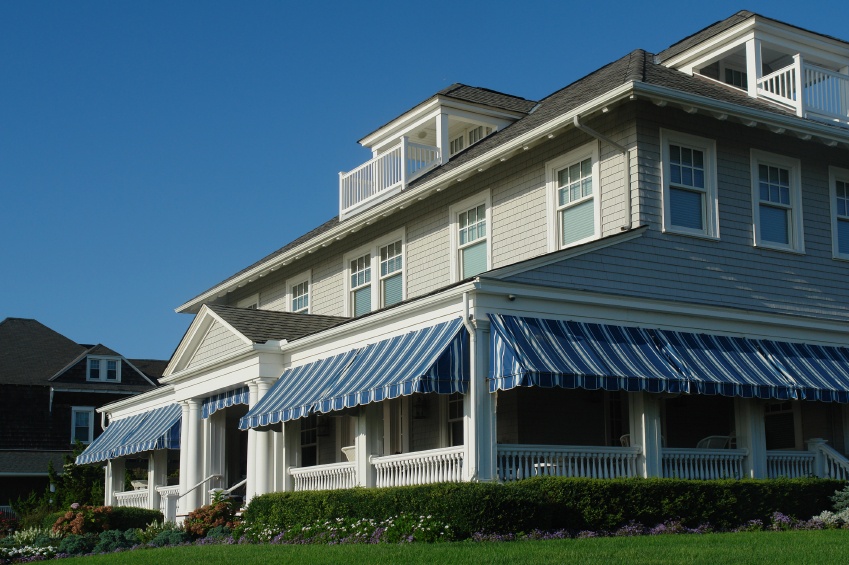 Our window awning prices will be increasing 10% due to higher supply prices. This price increase includes our window awning replacement fabric as well.
Our Traditional Window Awnings offer many great benefits. Window awnings can help keep your home cool on hot days and cut down energy costs. Window awnings are stylish on any home, and come in over 100 different fabric choices from Sunbrella. Our window awnings come with all the hardware and frames for installation, and shipping is FREE!
Our window awning frames are made with schedule 40 galvanized steel pipe, it's much heavier than any steel tubing and includes a 10 year non-prorated warranty. PYC window awnings are made with Sunbrella Fabric which has a 10 year warranty, and they are sewn with Tenara Thread that has a lifetime warranty.
If your home already has window awnings, and you would like to update the look and colors of your home we offer window awning fabric recovers. We custom make them to fit any existing frames.
Contact us

for more information on our Window Awnings!
Awning Replacement Fabric for your Patio/Retractable Awnings
It's easy to replace your fabric on your retractable awning, so why not freshen up the patio or deck with new fabric on your awning. With over 100 color choices in the Sunbrella Fabrics, it might just be time for a new color scheme for your awning and outdoor furnishings.
We are here to help if you have any questions on measuring and installation. Not sure which color to choose? Contact Us by email or phone and we'll send you free Sunbrella Samples. Just go to the Sunbrella Fabric Showroom and contact us with your color choices and we will send them to you the next business day.
The photo of the retractable awning is from one of our customers who just replaced her fabric and here is what she had to say….
Awning cover looks awesome!!  Thanks for the great service!! Couldn't be happier!
Thanks Katherine, it was a pleasure working with you on your project!
See our page for pricing and details on new fabric for your awning.
When shopping for new fabric for your retractable awning, the price range on fabrics can be significantly different. Some retractable awning replacement covers are even half the price of others! The cheaper price is not always the best value when considering how long your new cover will last and how colorfast it will be to keep it looking new through the years.
Confused on what is the best value?
Here's a comparison of fabrics to help you decide and check out Southern Living's Outdoor Fabrics article for more information.
Types of Fabrics

 Brand Names

  

Colorfastness 

Mildew Resistant

 

Longevity

Warranty

Solution Dyed Acrylics
Sunbrella

Solar Pro
Dickson
Outdura
Docril
Sundown

Solution Dyed Acrylic Fabrics are colorfast.The solution dyeing process adds pigments to the molecule of the fiber, creating links that are difficult to break even after some years, and which are much stronger than those from yarn-dyeing or fabric-dyeing.
Yes
10-20+ Years
5-10 Years
Acrylic Coated Polyester
Ultima
Oddessy
Sea-Sprae

Tends to fade over time.Polyester, being synthetic fibers as well, are less lasting than acrylic since they are more vulnerable to UV rays. The Acrylic coating makes the fabric more stable and water resistant.
Yes
5-8 Years
3-5 Years
Polyester
 Vista

Tends to fade quickly.Polyester, being synthetic fibers as well, are less lasting than acrylic since they are more vulnerable to UV rays.
Yes
3-5 Years
3 Yea
6P7BZYXFHFSM
Awning Replacement Fabric
Check our our Sunsetter® Replacement Fabric Page– So easy to order with better warranties than Sunsetter®. Custom made covers to fit your Sunsetter® and great prices.
For all other brands, check out our Patio Awning Replacement Fabric Page. Our covers will fit all brands of retractable awnings. Easy to order and warranted for 10 years. We use Sunbrella® Fabric and Tenera® Thread which has a lifetime warranty. Unsure of the size you need? Contact Us and we can help you find the right size for a perfect fit on your awning.

Take a look at our video and see how easy it is to replace your patio awning fabric.