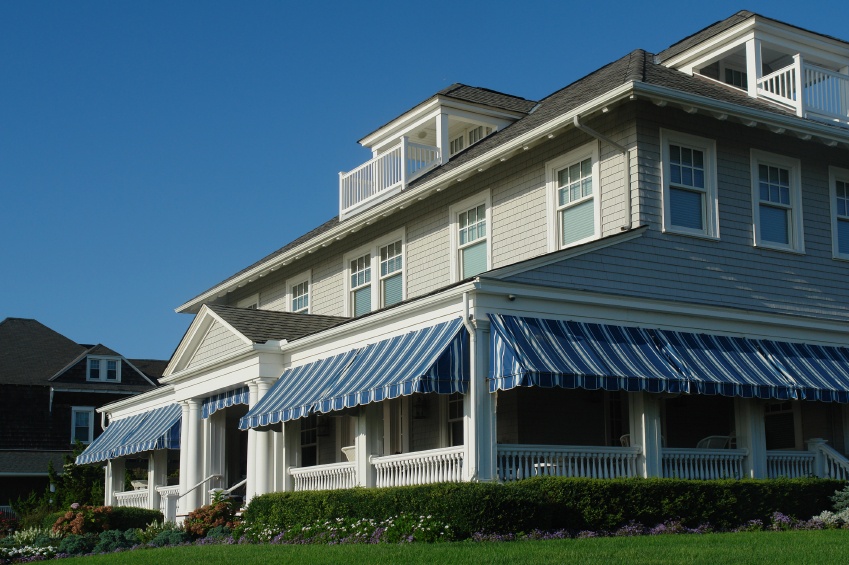 Our window awning prices will be increasing 10% due to higher supply prices. This price increase includes our window awning replacement fabric as well.
Our Traditional Window Awnings offer many great benefits. Window awnings can help keep your home cool on hot days and cut down energy costs. Window awnings are stylish on any home, and come in over 100 different fabric choices from Sunbrella. Our window awnings come with all the hardware and frames for installation, and shipping is FREE!
Our window awning frames are made with schedule 40 galvanized steel pipe, it's much heavier than any steel tubing and includes a 10 year non-prorated warranty. PYC window awnings are made with Sunbrella Fabric which has a 10 year warranty, and they are sewn with Tenara Thread that has a lifetime warranty.
If your home already has window awnings, and you would like to update the look and colors of your home we offer window awning fabric recovers. We custom make them to fit any existing frames.
Contact us

for more information on our Window Awnings!
Replace the Valance on Your Patio Awning
Need an inexpensive way to have your Patio Awning fabric looking like new again? The Valance on your Patio Awning is the first thing that will look worn and dirty since it is always exposed to the outdoor elements. There's no need to replace all the fabric on your Patio Awning just because the exposed Valance is dirty and worn. Read our new Awning Valance product page for tips on how to make your awning fabric look new with only the cost of  a new Valance for your Patio Awning.
Replacement Fabric for Awnings
Save 20 % Now Until 2-29-12 On New Patio Awning Fabric!
Just Enter the Coupon Code

SAVE20
Our new replacement fabric for your patio awning is easy to order and warranted for 10 years. We use Sunbrella Fabric and Tenera Thread which has a lifetime warranty. Unsure of the size you need? Contact Us and we can help you find the right size for a perfect fit on your awning.

Take a look at our video and see how easy it is to replace your patio awning fabric.
Easy "How To" Video shows you how to replace your Patio/Lateral Arm Awning Fabric.
Save money and replace your fabric on your awnings without the expense
of buying a complete awning with frames! We can custom make any fabric awning
cover for a fraction of the price of a complete awning. Need a price quote? Just
contact us with some rough measurements and a photo or description of the type
of awning you have. We will email you a price quote asap.
All of our covers are guaranteed to fit and are warranted for 10 years!